Mounting System MS − quick assembly, easy adjustment, precise work
When assembling our systems Trolley Bus Bar (Type B and D) and Plug Line (Type S) we have two challanges to deal with:
- Bridging wide spans
- Suspension from the ceiling
The Mounting System MS is especially suitable for these situations. Furthermore, is universally usable. From a simple shelf to a trade show booth, much can be built from it.
The system base element is a slit profile (Fig. 1), which is dimensioned so that, the head of an inserted M 10 hexagon screw can not turn in its inside. The profile is also available in a double form version (Fig. 2). Other components are also available.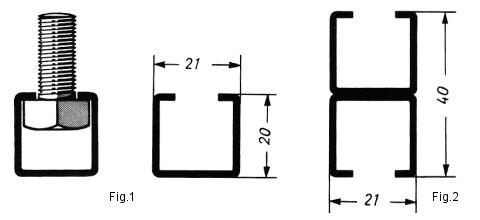 Please follow this link for more detailed information or download the product catalogue (PDF file): Deyle Mounting System MS